About Us
On most days, you can find two or three generations of our family working together at the market, always ready to serve you with a smile.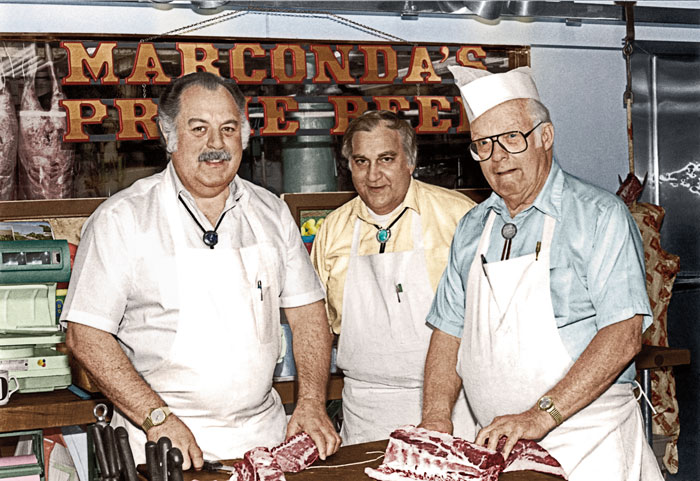 Marconda's Meats
We're a family-owned and operated meat and poultry market, offering traditional butcher service with natural, premium meats. We opened in 1941, selling mostly ground meats and sausages, and to this day we still make our original meatloaves and a wide variety of sausages.
Marconda's Puritan Poultry
While Puritan Poultry has been around for a while, our family bought it some years back. Since then, we've brought the service we're known for to some of the highest quality poultry meats around.
Although not as large as our main meat stall, don't let the size fool you. We can skin, cut, de-bone, or just about anything else on your next poultry order. We've still got three generations working behind the counter.
Marconda's & Puritan Poultry
Marconda's is a family owned and operated butcher located in Los Angeles. Established in 1941, Marconda's is the oldest standing meat market in Los Angeles. With three generations working behind the counter, we're committed to delivering the highest quality meat with the friendliest service to our customers.
Daily Fresh Meats
Becuase we only stock fresh meat, feel free to call ahead and make sure we have what you are looking for.
Local Farmers
Marconda's meats are locally sourced and come from farmers that care about you.
Prime & Organic
With the highest standards put in place, we strive to bring you the best meats possible.
The Farmers Market
6333 W. 3rd St., Stall 514
Los Angeles, CA 90036
OPEN EVERYDAY 
9:00 am – 6:00 pm
* Two-hour parking validation with purchase at The Farmers Market & The Grove.